Baby swimming is a wonderful sensory activity for babies and can be a wonderful bonding experience with your new baby.
Promoting confidence and safety by the water, for all ages, is the key purpose of our business, and so Slipfree are thrilled to be supporting National Baby Swimming Week through our partnership with Water Babies.
Peace of mind at the pool
Teaching your children how to be safe near the water is an essential life skill and will help give parents and carers peace of mind when at the pool, on the beach or having a family day out near the water.
Slipfree® UK was born on a family holiday to Turkey when our own children were tiny and quickly became a game changer for us and many other families who enjoy spending time around the water. Designed with safety in mind our Slipfree® shoes feature non-slip soles which help prevent slipping and falling on wet & dry surfaces as well as protecting against infections and nasties at the pool. Meaning you and your baby can start swimming together with one less thing to worry about.
Benefits of Baby Swimming
It is important that children become comfortable and safe in and by the water at a young age, and swimming with your baby promotes the teaching of age appropriate live saving skills, there are many other benefits swimming will have for your baby and you including:
Gentle exercise for both of you
Helps developing the muscles inside and out of your little one
It helps with developing their balance
Assists with their eating and sleeping patterns
Learning new skills helps with their overall confidence
The extra cuddles and one on one time are also a lovely bonus.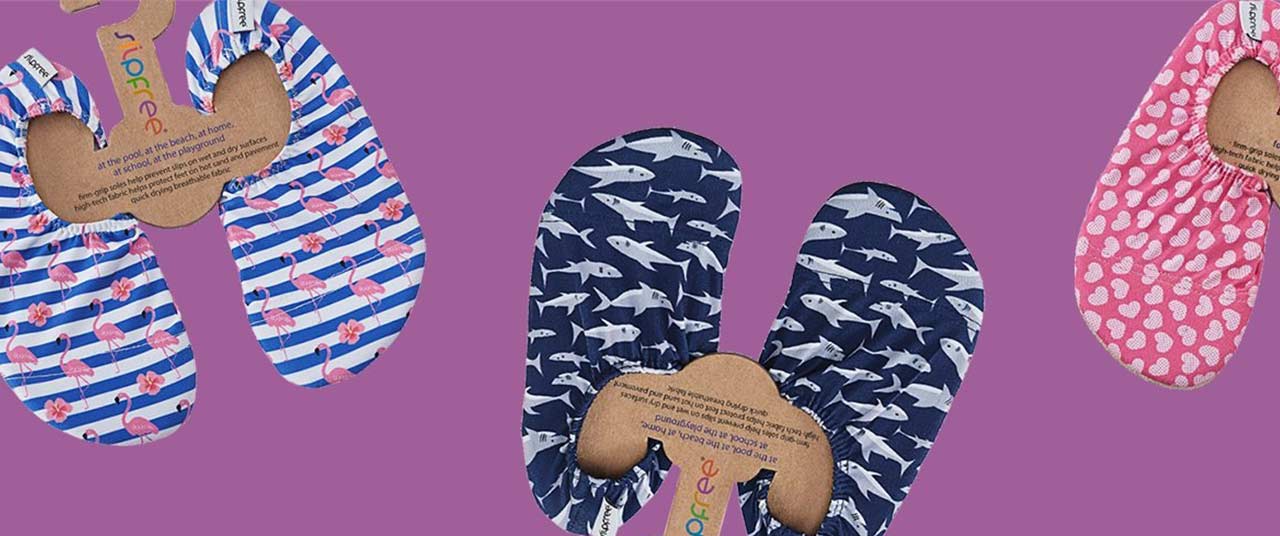 Slipfree Family Baby Swimming Experiences
Ahead of National Baby Swimming Week, we asked our Slipfree followers on Instagram why they love swimming with their baby, and 87% said they love baby swimming because they are teaching their baby a new life skill. A skill that could potentially save their life one day.
71% tell us they wish they had started swimming lessons with their little ones earlier, as there are so many benefits.
Personally, we found swimming lessons helped our kids to develop confidence around the water, even bath times became more enjoyable. And as any parent will testify, the post swim naps are just the best.
Baby Swimming Tips from Parents Who have Been There
We also asked our Slipfree Family to share their top tips when starting baby swimming lessons:
Use a hooded towel, dressing gown or a poncho towel to easily wrap you little one up as soon as you exit the water
Have snacks on hand, or be ready to breast/bottle feed your baby as soon as you are out of the pool – they will get hungry
Reusable swim nappies really are amazing for keeping any whoopsies firmly inside
Grab some Slipfree® shoes for you and your baby. They allow you to stroll confidently and safely around - from the changing room to the pool, and the shower, even with a wet, wriggly babe in your arms. Bonus, no risk of nasty infections!
Try not to make plans post swim, as you can normally expect a nice long nap once they finish.
Step into the safe and colourful world of Slipfree®
Soft, flexible, and extremely comfortable, swim shoes designed for a barefoot feeling. Perfect for parents and babies from around 9 months who are developing their sense of security in the pool environment.
They can be worn comfortably in and out of the water, and because they are so light, you can swim without realising you are wearing shoes. 
Join the Slipfree Family on Instagram and Facebook. Find out more at www.slipfree.co.uk.