We've all heard that breakfast is the most important meal of the day, right? Well, this is certainly true when you've got a trip to the pool planned for your little one!
The morning is a great time to introduce some new textures, as babies are typically hungry after their long (albeit interrupted) night of sleeping. Slow releasing breakfasts like our Apple Pie Overnight Oats or Blackberry & Apple Quinoa Porridge are sure to keep the energy levels up after a fun swimming session.
These breakfasts are delicious and super simple, and what's better than having something from the night before ready and waiting? Fingers crossed your little one lets you have a taste!
Apple pie overnight oats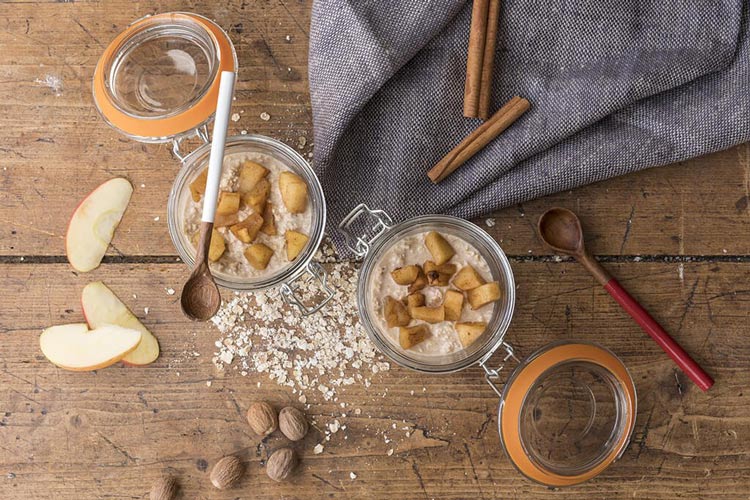 Spice up your mornings with this delicious and easy recipe! Creamy oats with lots of spice and fruit – sounds tasty right?! Store in a large Tupperware or as individual portions to eat on the go on the way to your swimming session!
Preparation: 15 minutes | Cooking: 10 minutes | Suitable from 8 months (6 months without maple syrup)
Ingredients
For the overnight oats:
· 200g rolled oats
· 1 tsp ground cinnamon
· Pinch ground nutmeg
· 1 teaspoon maple syrup (not suitable for children under 12 months)
· 100g Piccolo Apple & Cinnamon fruit pouch or apple puree
For the apple pie topping:
· 250ml milk such as almond or oat milk
· Pinch of nutmeg
· 1 medium eating apple peeled, cored and chopped into small chunks
· 1/2 tsp ground cinnamon
· 1 teaspoon maple syrup
· 120ml water
Method
1. Place the oats, cinnamon, nutmeg, apple puree or Piccolo pouch and maple syrup (if using) into a medium sized bowl and stir to combine. Cover the bowl with cling film and place in the fridge for at least 6 hours, overnight if possible.
2. Make the apple pie topping: Place the chopped up apples, cinnamon, nutmeg, salt, maple syrup and water into a small saucepan and place over a medium heat.
3. Bring to a boil, stirring continuously. Once boiling, turn the heat down to low and cook for 5-7 minutes, stirring frequently, until thick and the apples are tender. You want them soft, but with a little bite still...
4. To serve: Divide the oats into 2-3 servings and top each with the apple pie topping. Serve warm or cold. To warm, place in the microwave for 1-2 minutes, until desired warmth is reached.


Blackberry & Apple Quinoa Porridge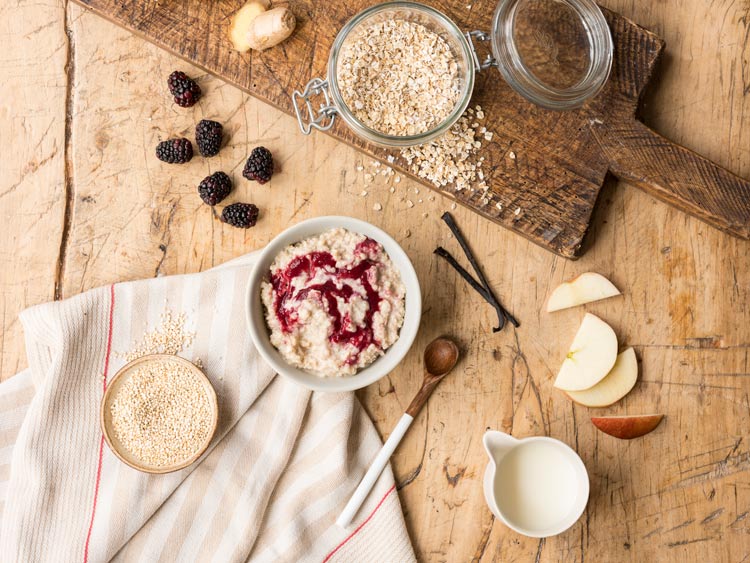 This yummy porridge, made from a combination of oats and quinoa with a fruity twist, make a delicious breakfast or snack to keep your little one going throughout the day!
Preparation: 15 minutes | Cooking: 25 minutes | serves 4-6 | Suitable from 6 months | Not suitable for freezing
Ingredients:
For the porridge:
· ½ vanilla pod
· 1 teaspoon ground ginger
· 250ml almond or oat milk
· 40g quinoa
· 25g porridge oats
For the blackberry & apple coulis:
· 50g blackberries
· ½ eating apple, peeled, cored, and chopped into small chunks
Method
1. Split the vanilla pod down the middle and scrape out the seeds. Add the seeds and pod to a saucepan and add in the almond or oat milk and ginger
2. Rinse the quinoa in cold water then add the quinoa to the milk and bring to a boil, then lower the heat and simmer for 15 minutes, uncovered, or until the quinoa tails sprout
3. Add the oats and 80ml water to the quinoa and cook until it reaches a porridge consistency – about 10 minutes, uncovered. Add more water or milk if desired
4. Meanwhile, make a blackberry and apple coulis: add the apple chunks with 3 tablespoons of water and simmer for 4-5 minutes, covered, add the blackberries and simmer for a further 2-3 minutes. Mix well and mash with a fork until the fruit has broken down
5. Remove the vanilla pod from the porridge and mix in the coulis to the porridge, reserving a little to drizzle over the top of the porridge when serving
Who we are
Piccolo is a family for growing families. As a small, family-run company made up of parents ourselves, we strive to be pioneers within the baby food category. It is our mission to push boundaries to find the most effective ways to support growing families. This is why we consistently improve our sustainability efforts in our packaging's recyclability and by becoming the UKs first carbon neutral baby food company. It is also integral to the company that we ensure parents are getting the best quality products possible. At Piccolo, giving back and sustainable sourcing are core values of the business. We work with small producers and place provenance at the heart of our sourcing decisions, with many of our organic ingredients planted and nurtured in independent family farms across the Mediterranean. Piccolo is committed to giving 10% of profits to charities supporting local families and has donated over 500,000 baby meals to families in need. We work with our charity partners to help local families provide their children with the best start in life. 'Join Piccolo's Family Club, a family for growing families, and have access to expert advice, tips, and exclusive discounts to their partner brands.'
Why we team up with Water Babies
At Piccolo, we believe there is more to a company that just the products and we strive to support parents on how to maintain a healthy lifestyle for their family. That's why we absolutely love Water Babies, because like us, they're here to help and educate parents every step (or front crawl) of the way! Piccolo and Water Babies have been partners for over three years, and we're very excited to support them again on this year's National Baby Swimming Week!